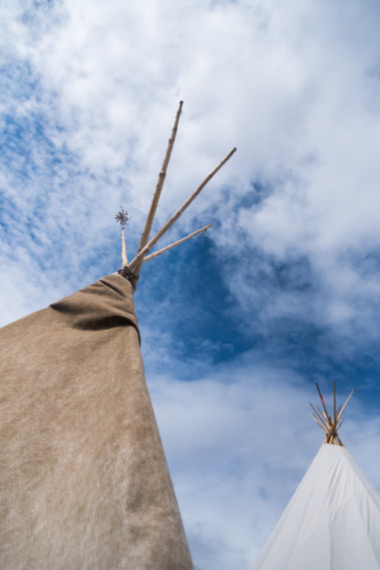 In 2019, the Innu community, Fermont citizens and Quebec Iron Ore employees forged connections at a unifying event organized by the company to celebrate the longest day of the year and the arrival of summer!
Since it started operations in the Labrador Trough, Quebec Iron Ore has always been aware of and respectful toward the land that hosts it.
Very sensitive to the values and traditions of Indigenous culture, our company has never ceased to contribute to valorizing this richness and diversity by working as closely as possible with the communities, thanks in particular to the contribution of liaison officers who work daily to create and facilitate intercultural exchanges.
This is the context in which Quebec Iron Ore organized an event at its facilities in June 2019 to celebrate the summer solstice, the longest day of the year. The Innu community has always celebrated the solstice with a great gathering to honour their cultural heritage.
On this occasion, and to further promote understanding between the Innu community, our company's employees and the citizens of Fermont, Quebec Iron Ore planned a variety of activities, including a tasting of traditional Innu dishes, craft workshops and, to top off the event, a concert by the Maten musical ensemble from Mani-utenam.
Quantified feedback on the event:
– 143 children from Fermont elementary and secondary schools participated in the event;
– 80 Fermont employees and citizens visited the facilities;
– 85 spectators attended the Maten show in the evening.
This event, acclaimed by all participants, gave visitors a chance to gain a better understanding and appreciation of Innu culture. School children in particular were very enthusiastic about the craft activity of making dream catchers, and the stories told by Innu storyteller Ovila Fontaine captivated all participants. A beautiful moment of sharing!